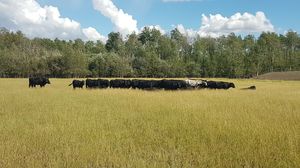 What's In a Variety Pack?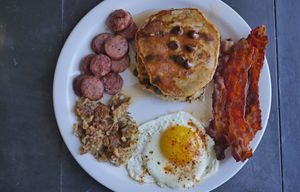 Pork Box (30-32 lb), $265:
Ham, 5-6lb
Bacon, two 1.5lb packages
Gluten-free sausage
Shoulder roast & leg roast, 3lb each
Spare ribs
Smoked hock
Shoulder steaks
Boneless loin chops (several packages of two, 3/4" thick)
Ground Pork, 1.5lb
 Several packages of boneless chops will be added to bring the weight up to 30-32 lb.
New Pork and Lamb Packages:
Lamb Boxes, $125:
These will have a nice mix of loin chops, ribs, leg and shoulder roasts, stew, and shank (if available).  Approximate weight will be 12 pounds, but could be slightly more.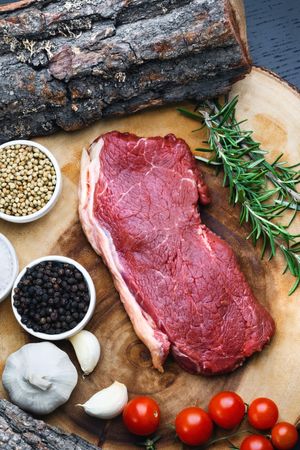 Pasture Packs
A Pasture Pack is basically like buying a tiny grassfed/grassfinished steer which will easily fit into a small freezer or into the freezer compartment of a fridge.  That way your family can enjoy nearly all the cuts of meat that come with a side of beef. 
***Note actual weight of each item combination may vary slightly from what is described below, but overall weight of the order will be at least what is listed, and usually ends up being more.
---
Small Pasture Pack, $245 (approximately 25 lbs): 
Steak and ground beef, 5lb of each
10lb total of roast (usually boneless Blade and a small Eye of Round), ribs, and stew meat.
Specify Option 1: 5lb Soupbones; or Option 2: extra ground beef (medium or lean)
---
   25lb Ground Beef Pack
Ground Beef, 1.5 lb packages
Regular (lean-medium), $180
Extra lean, $200
Pasture Pack (46lb), $395: 
Option 1: 
10 lb Steak, 2/package, 1" thick. (2 packages each of Striploin, sirloin, eye of round, inside round).  One package each of Ribeye and Tenderloin. 
12 lb Roast (3lb each: Sirloin tip, boneless blade, cross-rib, inside round) 
Short Ribs (one large package, or two small) 
Stew meat and Bone-in Shank, 1 of each  (We may substitute round steak for stew, depending on availability.)
Ground Beef, 5-6 packages @1.5lb 
Soup bones (2 bags@4-5lb) 
Option 2: 
Same as above, except 5lb ground beef instead of soupbones.  Please specify lean or medium ground beef.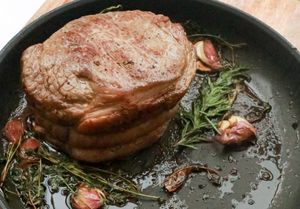 Mixed Beef/Pork Boxes
Small Beef/Pork Box, $245  (25lb): 
Steak (5lb)
Ground beef and roast, 10lb total.   
Pork roast (3lb)
Boneless loin chops, ribs (if available), shoulder steaks, ground pork,            (10lb total)  
Large Beef/Pork Box, $360 (40-42 lb):
Small Beef Pasture Pack (see details under Pasture Packs above)
Ham (4-5lb)
Pork roast (3lb)
Bacon (2@1.5lb)
Boneless loin chops (2-3 packages of two)
Gluten-free breakfast sausage (2 packages)