We are here to provide families with nutrient-dense proteins that fit their unique situation, and will do our utmost to meet the growing demand for beef, pork, and lamb.  
Lamb:  We have lamb available, already cut and wrapped as wholes, halves, and Lamb Boxes (12lb).
We have lambs ready for processing monthly starting August 2023.  Deposit to reserve $200  
It's therefore very important to place your orders early so that we can plan our finishing schedule and arrange for slaughter space.
Chickens:  We have free-range pastured broilers available mid-September.  These will be sold as whole frozen birds, approximate weights 8-12 pounds. 
Deposit is $15/bird, and orders must be placed by May 15th, 2023.
Please stay well, everyone.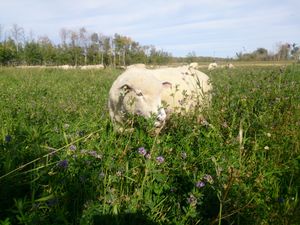 Pasture-Raised Lamb &Broiler Chickens
Our lambs are born between January and June.  Our ewes spend their time on pasture except during winter lambing time.  A mother sheep is brought into the barn when she lambs and kept there for a short time until her lambs are dried off and strong enough to go back into the flock.  Lambs that aren't sold stay with their mothers throughout the summer and are rotationally grazed with the rest of the flock.
Frozen Bulk Lamb (Wholes, cut and wrapped.  Specify whether you prefer small: 30lb or large: 50lb)
 We can supply lamb, fresh or frozen, and also frozen boxed lamb, from May through December.  Dressed weight will be 30-55lbs.
Lamb Boxes, $125:
These will have a nice mix of loin chops, ribs, leg roasts, stew, and shank (if available).  Approximate weight will be 12 pounds.
We are able to arrange shipping throughout BC, Alberta, and NWT.  Overnight delivery to most Alberta locations.

Price for a lamb is $8.50/lb dressed weight, plus processing costs.