About Our Beef
NO Chemicals, Hormones, Antibiotics, GMO Feed, Grain, Silage, or Vaccines.  All forage (pasture and hay) that our animals eat is grown on land that has been without chemical fertilizers or pesticides since at least 2004.
Welsh Black Beef is simply superb.  It is flavorful, very tender, and juicy.  Because our cattle are never, ever fed grain, their beef has many health benefits not found in regular grain-finished meat. Compared to feedlot beef, beef from grass-fed animals is leaner, and has much higher levels of Omega-3 fatty acids, Conjugated Linoleic Acid (CLA), and Vitamin E.  Our beef is dry-aged in a government-inspected facility for 17-21 days before being cut and wrapped.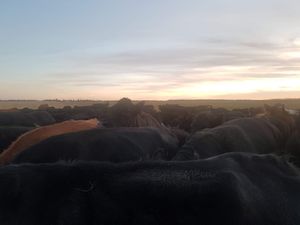 Recommendations for Ordering and Deposits
We have animals booked in at the processor for July through November 2023:  beef, pork, and lamb.  Deposit required.  Save 5% on combinations of beef and pork/lamb (Halves and wholes).
We are here to provide families with nutrient-dense proteins that fit their unique situation, and will do our utmost to meet the growing demand for beef, pork, and lamb.  Available in quarters/wholes/halves, and Variety Packs.
Grass-Finished Beef:  We recommend that people place their deposits early, so that we can plan our butchering, shipping, and delivery schedule.  We have beef animals ready to butcher monthly till November.  There is a four week turnaround for beef, which helps people to organize their budget. 
Please send us your order details through our order form, here.  Deposits can be sent via Etransfer to ksfarm.orders@gmail.com.  Please be sure to include all of your contact information, including town and phone number, as well as details about what you are ordering.  We can be reached anytime at 780-864-9218.
Please stay well, everyone.